Top Pick
Timesheet
Task Management
Productivity evaluation
Location tracking
DeltaEye is recognized as one of the best Employee Monitoring Software. It is a service for monitoring employees during their work on the computer and analyzing and reporting the data collected. It is installed on employees' computers, collecting data at intervals and sending it to a server to be analyzed.
What is Employee Monitoring Software?
An employee monitoring software works in a "client-server" mode with a server that monitors all employee computers through the local area network or the Internet.
Deltaeye employee control software records and tracks computer activities such as instant messaging conversations and visited websites.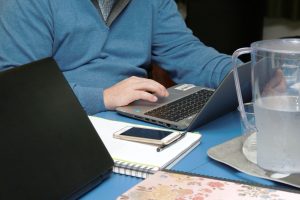 You can see if your employees are working on the computer or not. Deltaeye also blocks unwanted actions such as specific websites, games, external drives, and USB drives.
All monitoring data from employee computers is stored in the server database. Deltaeye will generate high-quality professional management reports on how your employees are using their computers.
The Pandemic Effect (Covid-19)
Remote work has become a trend. Plus, it's here to stay. Starting with social distancing, many companies have taken remote work as a substitute for face-to-face work.
COVID-19 has caused many companies to send their workers home. These measures require new monitoring and evaluation systems.
Why there is a need for Employee Control/Screen Monitoring Software
In today's business environment, no organization can achieve the highest productivity levels unless each and every one of its employees are committed to working efficiently. This means that employees are the main cause of your business growth.
But unfortunately, some business owners tend to fail to monitor their employees' daily productivity, and the result is job performance detrimental to business growth.
A company without monitoring nor can it achieve its objectives.
Thanks to technology and software tools to monitor employee productivity, such as Deltaeye, organizations can now receive automatic alerts and reports on their employees' performance.
Features of Deltaeye
Deltaeye has unique features to help you keep an eye on the productivity of your business. We describe some of the utilities included in DeltaEye below.
Employee Control Capability
Deltaeye implements a specific range of configurable options for employee monitoring and employee control. It has a simple system so that any manager can obtain the information they need about an employee's productivity or information leakage.
Timesheet and Task Management
Timesheet software is used to track the work hours of teams and streamline the payroll process. Deltaeye includes features that track the time it takes to complete each task and helps managers keep the project on schedule.
Deltaeye is the only Employee Time Clock Application you will ever need. Manage your employee's timesheet right from the same software. 
Productivity Evaluation
Monitoring productivity is an essential part of a project management program. Understanding the actual allocation of employee time around specific tasks enables transparent measurement of KPIs.
Deltaeye deduces through an intelligent algorithm the productivity times of your employees and categorizes them according to your standards.
Location Tracking
Some jobs are not done in the office or at home. You will need to know if your workers comply with the required visits or if they are where they say they are. The Location Tracking included in Deltaeye will help you keep an eye on your employees' location history.
Alerts
Receive timely alerts when an employee tries to remove confidential information from your computers or your server. You can also get alerts when mass storage devices are connected or when they are under long idle time. DeltaEye alerts allow you to be in the know at all times.
Stealth Mode
There is data that companies should not disclose. Stealth Mode is when a company tries to keep all of its actions as secret as possible. To that end, the company may mislead the public about its true goals.
Deltaeye prevents unqualified personnel from accessing classified information.
Who Sells best Employee Monitoring Software Solutions?
You will probably find many solutions suitable for your needs in the market. We recommend that you purchase software that contains multiple tools to cover different cases. Remote work, location, information theft, and productivity are some of them.
Delta Eye has useful and easy-to-use tools. Its Client-Server system is perfect for safeguarding information and obtaining accurate reports at all times.
Pricing
The price will depend on the number of computers you want to monitor, from $ 20 onwards. Deltaeye is the best employee monitoring software 2021.
FAQ's Related to Employee Computer Monitoring Software
What are employee monitoring tools?
Software dedicated to monitoring what your employees do during working hours or on company computers.
Is Employee Monitoring Software Ethical?
The law allows the use of employee monitoring or employee control software on company computers.
How can I monitor my employee's computer?
Using discrete monitoring software installed on every PC in the company.
How is employee monitoring software fooled?
Delta Eye is discreet software. Your employees won't notice it while they're working. To disable it on a computer, you will need a password from the software administrator. The software activity monitor will detect any attempt to circumvent it and will notify you.
How do you keep track of your employees?
You can keep track of each employee's work by installing the DeltaEye tracking software on every computer they use.
What is remote employee control? Employee monitoring software definition
It is about having control over the actions of employees on company computers.